DAVESCARDS - NON-SPORT CARD TRADING SITE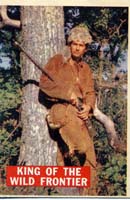 RIP
Fess Parker
August 16, 1924 - March 18, 2010
"Giv'em what fer, Davy!"
Updated 1/7/2020
You have reached Dave's non-sport card page.
I'm a former charter member of the Knuckle Buster's Card Club organized by "Storm" (Nerissa Morgan). She got me started in the fun of internet card trading. Sadly, there no longer appears to be any non-sport card trading groups left. If anyone knows of one, please let me know.
I'm in the process of selling off or trading most of my non-sport card collection. My wantlist is very short. I'm keeping a few treasured vintage sets and getting rid of everything else. Everything is available for trade. What I don't trade away will eventually be going on eBay. I have a large inventory of post-1985 singles, a few vintage singles, many complete sets, some unopened material, and a bunch of promo cards - all listed on this page, so keep scrolling down to find what you want. I also have a lot of odds and ends not listed, including insert cards for most of the modern era sets. So if you don't see it, it doesn't necessarily mean I don't have it.
These lists are not totally up-to-date. I might not have everything listed here. Please inquire about cards you are interested in. I have several back issues of non-sport related magazines and price guides including The Wrapper and Non-Sport Update. I haven't got these listed here, but if you're interested, let me know.
I also have sports cards and comics for trade or sale. Please see the links at the end of this page. My entire comic book collection is up for sale, as well as most of my modern day sports card collection. I'll be happy to trade non-sport cards and comics for sport cards.
If you would like to trade or buy, or send a copy of your want list, please contact me at: DWBCA@aol.com
I periodically will have auctions on Ebay. Please check my listings under "davescards". I am a top-rated seller.
---
WANT LIST:
Davy Crockett - green back series (Topps 1956): (Vg+ or better condition)
1, 2, 3, 5, 6, 7, 9, 10, 11, 12, 16, 20, 21, 26, 28, 29, 32, 33, 35, 36, 37, 38, 39, 43, 45, 46, 47, 48, 50, 52, 54, 56, 62, 64, 65, 67, 70, 72, 76, 77, 78, 80
Phil Rizzuto's National Pastime (Comic Images, 1995):
1st set: base set: 28; MagnaChrome insert set (blue back, period following the number): 1., 3.
2nd set: base set: 12, 15, 28, 37, 39, 46, 52, 63, 74, 75, 79, 85
Smurfs Supercards (Topps 1982): (Ex or better) #15
Star Trek (Topps 1976): (Ex or better) sticker #22
Star Trek-The Original Series (series 1) (Fleer/Skybox 1997) (NM):
Base set:10, 85
Behind the Scenes: 12, 13, 16, 19, 20, 29, 34, 43, 48, 49, 55, 56, 58
Profiles: 2, 8, 9, 18, 19, 20, 21, 23, 24, 28, 29
Star Wars Vehicles (Topps, 1997): 19
Star Wars Galaxy Series 3 (Topps, 1995): 281, 334, 336, 342, 348, 354
Star Wars - Galactic Files I (Topps 2012):
Base: 45, 103, 213, 224, 236, 249, 258, 264, 276, 277, 288, 303, 321, 332
Heroes of Both Sides (HB): 2, 5, 7, 8
Classic Lines (CL): 2
Duals of Fate (DF): 3, 8, 10
Galactic Moments (GM): 2, 3, 4, 5, 7, 8, 10, 11, 13, 14, 16, 17, 18, 19, 20
---
---
CARDS TO TRADE:
VINTAGE CARDS (pre-1985)
1956 Topps Davy Crockett (orange): 28 (Vg)
1982 Topps ET: singles, (NM)
1982 Smurfs Supercards: singles (NM)
---
MODERN CARDS (Post-1985)
Insert/chase cards available for many of these sets
Alien Legacy (Inkworks, 1998): singles and complete set
Alien/Predator Universe (Topps 1996): singles, complete set
All Time Toons (Upper Deck/Pyramid 1996): singles, complete set (108 cards)
Batman 2 (Topps 1989): singles, complete set
Blueprints of the Future – The Art of Vincent de Fate (Comic Images 1994): singles, complete set
Boris I (Comic Images 1991): singles, complete set
Boris II (Comic Images 1992): complete set
California Dreaming: singles, complete set
Centennial Olympic Games (Collect-a-Card 1994): singles, complete sets (without inserts)
Chris Foss (FPG 1995): singles, complete set
Comic Ball series 1 (Upper Deck 1992): singles
Dave Dorman Chromium FPG 1996): singles, complete set
D.C. Cosmic (Impel 1992): singles, complete set
Desert Storm I, II, III (Topps 1991): singles
Desert Storm (Pro Set 1991): singles
Dinocardz (50-card set) (1992): singles, complete set
Dinocardz (80-card set): singles, complete set
Dinamation Dinosaurs (Star Pics 1992): singles
Dinosaurs – The Mesozoic Era (First Glance 1993): singles, complete sets
Dinosaurs (TV show) (Pro Set 1992): complete set
Dinotopia (Collect-a-Card 1995): singles, complete set (without inserts)
Disney Character Card Club series 2 (Japanese): singles
Disney Collector Cards series 1 (Impel 1991): singles
Disney Premium (Skybox 1995): singles
Doomsday – Death of Superman (Skybox 1992): singles, complete set
Escape of the Dinosaurs (Australian): singles, near set
Empire Strikes Back Widevision (Topps 1995): singles
Firebrands (Ron Miller) (Comic Images 1994): singles, complete set
Fright Flicks (Topps 1988): singles, complete set
Ghostbusters 2 (Topps 1989): singles, complete set with stickers
G.I. Joe Special Forces (Impel 1991): singles, complete set
Godzilla Trading Card Collection (Japanese 1995): singles
Godzilla Chromium (Japanese): singles
Godzilla – Monster Movie Widevision (Japanese, Amada 1996): singles, complete set
Godzilla – Toho Monsters (Japanese, Bandai 1996): singles
Independence Day (Topps 1996): singles, complete set
Julie Bell (Cardz 1994): singles
Jurassic Park series 1 and 2 (Topps 1993): singles, complete sets
Jurassic Park – Lost World (Topps 1997): singles
Marvel (Skybox 1993): complete set
Marvel Masterpiece (1992): complete set
Marvel Masterpiece (1994): singles
Marvel Universe II: singles
Pee Wee's Playhouse (Topps 1989): singles
Phil Rizzuto's Baseball National Pastime (Comic Images 1995): singles
Power Rangers I (retail) (Collect-a-Card 1994): singles, complete set, complete foil set
Power Rangers I (Wal-Mart): singles, complete set
Return of the Jedi Widevision (Topps 1995): singles
Robocop 2 (Topps 1990)): singles, complete set with stickers
Space Jam I (Upper Deck/Pyramid 1996): singles, complete set with insert sets
Space Shots (Space Ventures 1990-92): singles
(Amazing) Spiderman (Fleer 1994): singles, complete set with inserts
Spiderman Premium (Fleer/Skybox 1996): singles
Spiderman ( Fleer 1994): singles
Spiderman – 30th Anniversary (Comic Images 1992): singles, complete set
Starlog (World Class Marketing 1993): singles, complete set
Star Trek – 25th Anniversary I & II (Impel 1991): singles, complete set
Star Trek Master Series I & II (Skybox 1993-94): singles, complete sets
Star Trek Generations (Skybox 1995): singles, complete set
Star Trek – The Original Series I (Fleer/Skybox 1997): singles
Star Trek – TNG season 1 (Impel 1992): singles, complete set
Star Trek - TNG Episode series 1: (Skybox 1994): complete set
Star Trek – TNG season 2 (Skybox 1995): singles
Star Trek – TNG season 4 (Skybox 1996): complete set
Star Trek – TNG season 5 (Skybox 1996): complete set
Star Wars - Galactic Files I (Topps 2012):
Base: 1, 2, 3, 5, 9, 10, 11, 13, 14, 22, 24, 25, 26, 27, 29, 30, 31, 34, 35, 36, 37, 41, 42, 43, 45, 47, 50, 51, 52, 54, 57, 59, 60, 61, 62, 63, 65, 67, 71, 72, 73, 77, 81, 82, 83, 85, 89, 91, 92, 96, 98, 102, 105, 106, 107, 108, 109, 111, 112, 113, 114, 115, 117, 121, 122, 123, 124, 125, 127, 128, 132, 133, 134, 135, 136, 137, 141, 142, 143, 146, 147, 150, 151, 153, 154, 157, 158, 160, 161, 165, 166, 167, 171, 172, 173, 175, 176, 177, 179, 185, 186, 187, 189, 191, 192, 194, 196, 197, 198, 200, 201, 203, 204, 206, 207, 208, 210, 206, 208, 210, 216, 218, 219, 221, 222, 225, 226, 227, 229,. 230, 232, 234, 235, 238, 239, 240, 241, 242, 243, 244, 245, 247, 248, 250, 251, 252, 257, 259, 261, 262, 268, 269, 270, 271, 272, 274, 275, 280, 283, 284, 285, 287, 290, 293, 294, 297, 301, 302, 305, 306, 307, 308, 313, 315, 317, 318, 319, 320, 322, 323, 325, 326, 327, 329, 336, 337, 338, 339, 344, 346, 347, 349
Patch: PR-29 (B-Wing Pilot-Endor Veterans
Sketch cards (1/1): Vanessa "Bunky" Farano; Jay Shimko; Jeremy R. Scott Red border: 144 (03/35)
Blue border (of 350): 20 (022), 45 (070), 68 (255), 79 (238), 146 (146), 152 (014), 185 (223), 293 (132), 345 (205), 349 (225)
Duals of Fate (DF): 1
Heroes of Both Sides (HB): 1, 9, 10
Bad Feeling (BF): 2, 3, 6
Classic Lines (CL): 3, 6(2), 10(2)
Galactic Moments (GM): 1, 15
Star Wars Illustrated (Topps, 2013):
Base cards: several
One Year Earlier: several
Etched Foil Puzzle (of 6): 1, 6
One-Sheet Reimagined (MP): 4, 7
Authentic Film Cell: FR-4 (from Episode 4)
Star Wars Finest (Topps 1996): singles
Star Wars Galaxy III (Topps 1995): singles
Star Wars Trilogy (Merlin 1997): singles
Star Wars Special Edition Widevision (Topps 1997): singles
Star Wars Vehicles (Topps 1997): singles
Star Wars – Shadows of the Empire (Topps 1996): singles
Tales from the Crypt: singles, complete set
Teenage Mutant Ninja Turtles – cartoon I (Topps 1989): singles, complete set with stickers
Teenage Mutant Ninja Turtles – cartoon II (Topps 1989): singles, complete set with stickers
Teenage Mutant Ninja Turtles – cartoon III (Topps): singles
Teenage Mutant Ninja Turtles – movie I (Topps 1990): singles, complete set with stickers
Teenage Mutant Ninja Turtles – movie II (Topps 1990): singles, complete set with stickers
Terminator 2 - stickers (Topps 1991)): singles, complete set
Terminator 2 (Impel 1991): singles, complete set
Top Pilot Warbirds (1989): singles, near complete set
Wayne Barlowe (Comic Images 1994): singles, complete set
William Stout – Lost Worlds (Comic Images 1993): singles, complete set
William Stout 2 (Comic Images 1994): singles, complete set
World War II (Cardz 1994): complete set
X-Files III (Topps): complete set
X-Files Showcase (Topps 1997): complete set (72 cards, inserts)
X-Men (Fleer Ultra 1994): singles, complete set
X-Men (Fleer Ultra 1995): singles, complete set
X-Men (Fleer 1995): singles
---
UNOPENED CARDS
Valiant Era (Upper Deck 1993): sealed box ($5.00)
---
PROMO CARDS
007 James Bond – The Connoisseurs Collection Vol. 2 (1996) P2
007 James Bond – The Connoisseurs Collection Vol. 3 (1996) P3
007 James Bond – Tomorrow Never Dies (1997) P1
007 James Bond – Tomorrow Never Dies (1997) P2
007 James Bond – The World Is Not Enough (1999) P1
007 James Bond – Die Another Day (2002) P1
007 James Bond – 40th Anniversary (2002) P2
The 4400 – Season Two (2007) P2
Advance Comics (1993) (Deathblow)
Advance Comics (Brigade)
Adventures of Batman and Robin (1996) P1
Alien Legacy (1998) P1
Alien Legacy (1998) P2
Angel – Season One (2002) AP2 (David Boreanaz)
Armageddon – movie (Nestle's 1998): complete set of 15 individually sealed cards ($10.00)
Art Treasures of the Vatican Library (1996)
Ash (Non-Sport Update) #7
Ash (Collect) #8
Austin Powers – The Spy Who Shagged Me (1999) P5 (Mike Myers – Dr. Evil)
Babylon 5 – Season Five (1998)
Babylon 5 CCG (1998) #6
Babylon 5 – Profiles (1999)
Batman – Holo Series (1996) #10 "Lair of the Dark Knight"
Batman vs. Wildcat (Wizard) #12
Battlestone (1995) C1
Baywatch (1995) #P (Hasselhoff & Pam Anderson!)
The Beatles (Sports Time) (1996) P1
Benchwarmer (2002) #9 (Brook Morales)
Benchwarmers (2004) #2 of 6 (Brande Roderick)
Best Defense Collector Cards (2001) (Non-Sport Update) (2002) #9 (F22 Raptor Fighter)
Bill & Ted's Excellent Adventure/Bogus Journey (Pro Set)
Black Web (Inks Comics) (1993) #4 (West Coast National II, Anaheim, CA)
Bloodlines (DC, Superman) (1993)
Blue Angels (1991) 13/21 (Fat Albert)
Blue Angels (1991) 15/21 (Knife Edge Pass)
Bone – Dragonslayer (Comic Images, 1996)
Buffy – The Vampire Slayer Season One (1998) BP1 (Sarah Michelle Gellar)
Buffy – The Vampire Slayer Season Two (1999) BP1 (Sarah Michelle Gellar)
Buffy – The Vampire Slayer Season Two (1999) BP2 (Sarah Michelle Gellar)
Buffy – The Vampire Slayer Season Three (1999) B3-4 (Sarah Michelle Gellar & David Boreanaz)
Buffy – The Vampire Slayer Season Four (2000) B4-2 (Sarah Michelle Gellar)
Calfornia Girls (1992) (#1 of 4) (29684 of 35, 000) (Nancie Casatto)
Calfornia Girls (1992) (#2 of 4) (34261 of 35, 000) (Raydeen Revilla)
Calfornia Girls (1992) (#3 of 4) (5665 of 35, 000) (Ann-Maria Carraseo)
Calfornia Girls (1992) (#4 of 4) (8109 of 35, 000) (Michelle Bedano)
Calfornia Girls (1992) (#4 of 4) (8806 of 35, 000) (Michelle Bedano)
Campbell's Collection (1995) CC-1
Cardtoons (baseball parody) P1 (Day-Glo Sabo)
Cardtoons (baseball parody) P2 (Dennis Excellency)
Cardwon (baseball, Chinese) (17th National Sports Collector's Convention, Anaheim, CA)
Champs (racing) (1991) Jeff Glass
Charmed (2000) P0 (Doherty, Combs, Milano!)
The Civil War (1991, Tuff-Stuff) #27 ("Bull Run")
The Civil War (1991, Tuff-Stuff) #91 ("Second Bull Run")
Coca-Cola Series 2 (1994, Tuff Stuff) CM-2 (Christy "Big-Six" Mathewson)
Cosmic Teams (1993) 00 (Dragonmage)
Country (country-western singers) blank back
Country Gold (1992) #5 (Mickey Gilley)
Crimson (2001) NSU-1
The Crow – City of Angels (1996, NSU) #2 of 5
DC Comics Outburst (1996) Superman
DinoHunt (1996) Cryolophosaurus (widevision)
Doctor Who – Series 1 (2000) C1-1
Doctor Who – Series 2 (2001, NSU) NS-1
Doom's IV (Rob Liefeld) #8 (Wizard)
Doug Beekman (Comic Images, 1997) (art cards) #2 of 2
Dragonball Z (2002) P1
Dream Machines #4 (1971 Ford Capri (2)
Dream Machines #94 (1937 Cord Model 812 Phaeton)
Elvira – Mistriss of Omnichrome (1997) #2 of 2
Elvis – the Platinum Collection (1999, Inkworks) P2
Fantasy Adventures (CCG) Sunburst
Farscape – Season 3 (2002) P1
Fathom (Top Cow 2001) NSU1
Flipper (Donruss, 1996)
Foes of Superman (1993, Skybox) #34 (Lex Luthor II) (2)
Foes of Superman (1993, Skybox) #35 (Mr. Mxyzptlk) (2)
Foes of Superman (1993, Skybox) #36 (Braniac) (2)
The Frighteners (1996) P2
Futuretech Spike & Meg (1995) PIII
Garfield Chromium (1995) #3
Gilligan's Island (1997) NSU
Godzilla Supervue (1998)
Gridiron (CCG) (Upper Deck, fantasy football)
Gundam (Upper Deck, 2000), WG-28 (Wing Gundam Zero)
Happy Days (1998) #2 (2)
Hero Team-Up (Cards Illustrated, Image) #2
Hero Team-Up (Cards Illustrated, Image) #3
Holly Daze (Wizard, 1993)
Hollywood Legends (1992) (James Dean)
Hollywood Zombies (Topps, 2007) P2 ('Paris Hellton")
Island of Dr. Moreau (1996) (sealed 8-card set)
Judge Dredd (Edge 1995) #1 (Sylvester Stallone)
Judge Dredd (Edge 1995) PROMO 1 (cartoon Judge Dredd)
Judge Dredd (Edge 1995) #4 (Mean Machine)
Kazam (Donruss 1998) (Shaquille O'Neal) (3)
Ken Kelly (FPG, 1994) (Combo)
Ken Kelly (stickers) (1996) (NSU promo) blank back
KISS – Collector Cards Series 1 (1997) P7
KISS – Collector Cards Series 1 (1997) P8
KISS – Collector Cards Series 2 (1998) P1
Independence Day (Topps Widevision) (1996) Target T1
Independence Day (Topps Widevision) (1996) Target T2
Independence Day (Topps Widevision) (1996) P1 (2)
Lady Death (1995) (Collect)
Lionel Trains (1997) #1 of 2
Little Mermaid (ProSet, 1991)
The Lone Ranger (Dart, 1996)
Lord of the Rings – The Two Towers (Topps) P1
Lost in Space – Classic Episode Series (1999) P2
Lost in Space (new movie) (1997) MP1 (2)
Lost in Space Trading Cards (Inkworks, 1997) P3 (2)
Marilyn Monroe – series 1 (1993) P
Marilyn Monroe = series 2 (1995) 1
Mars Attacks (Topps Widevision, 1996) (3 different unnumbered)
Marvel Masterpiece – series 1 (1992) Silver Surfer
Marvel Onslaught (1996) #9 of 9 Captain America
Marvel Creator's Collection #98
Marvel Legends (Topps 2001) P3 Daredevil
Mask (Inkworks, 1996) S-1
Maxx '94 – Series Two (NASCAR) (1994)
Maxx (Sam Keith) #2
McFarland's Santa Todd (1993)
Meanie Babies (1997) #2 of 3
Meanie Babies (1997) #3 of 3
Melrose Place (1996) P (2)
Melrose Place (1997) P
MIB – Men in Black (1997)
MIIB- Men in Black II (2002)
MOUGE (Taiwan Cardwon Company, 1996)
Muppets Take the Ice (Cardz) P1
The New American Pin-Up (1997) #3 of 5

Olivia Metamorphosis (2002) P2
The Outer Limits (1997) P1 of 2 (2)
Overpower (CCG) (DC, 1996)
The Pagemaster (Skybox, 1994), S-1
Pam Anderson (Playboy, 1996) P
Paul Chadwick (FPG 1995) (Combo)
Paul Pope THB (Comic Images, 1997)
PBA Turkey Bowling (1992) (#19180 of 35, 000)
The Phantom (Inkworks 1996) S1
Pitt (Dale Keown) #1
Planet of the Apes Archives (1999) P2
Press Pass Racing (17th National Sports Collector's Convention, Anaheim, CA 1996)
The Prisoner (1996) (2)
Project SWARM (1995) P-IV
The Relic (Donruss 1996)
Ray Bradbury Comics (Topps 1993) "A Sound of Thunder"
Ray Bradbury Comics (Topps 1993) Number Two
Ringlords (1991) (12th National Sports Collector's Convention, Anaheim, CA 1991) Tommy Morrison
Road to the White House (1993) Bill & Hillary Clinton
Sailor Moon (NSU 2000) #30 of 160
Secret Weapons (Valiant 1994)
Shadowhawk (Comic Images 1992) P3
Shi (Wizard 1996)
The Silver Age (Marvel Skybox, 1998)
Sim City (CCG) (473 Queensway Ct.)
The Simpsons – 10th Anniversary (2000) NSU-1
Sirius Gallery (1997) (2)
Sleepy Hollow (1999) P3 (Christina Ricci!)
Sliders (1996)
Small Soldiers (Inkworks 1997) P2 (2)
Smallville (2002) P2
Spawn (Inkworks 1997)
Spawn – The Movie (Inkworks 1997) P4
Spawn – The Toy Files (Inkworks 1998) P1
Sport Tunes (1992) #1 (20879 of 60,000)
Sport Tunes (1992) #100 (16455 of 60, 000)
Sport Tunes (1992) #100 (45813 of 60,000)
Stargate (movie) (Collect-a-Card 1994) TSM-1
Stargate SG-1 Season 1 Premier Edition (2000) P1
Stargate SG-1 Season 5 (2002) P1
Stargate Heroes(2009) P2
Starship Troopers (Inkworks 1997) 0 (2)
Starship Troopers (Inkworks 1997) P1
Star Trek – The Original Series Season 1 (1997)
Star Trek – The Original Series Season 2 (1998)
Star Trek – The Original Series Season 3 (1999)
Star Trek – The Next Generation Season 2 The Episode Collection (1995) S1
Star Trek – Voyager Profiles (1998)
Star Trek – Insurrection (widevision) (1998)
Star Trek – The Next Generation Season Seven (1999)
Star Trek – Voyager – Closer to Home (1999)
Star Trek – Deep Space Nine – Memories from the Future (1999)
Star Trek – The Next Generation Profiles (2000)
Star Trek – Enterprise Season 1 (2002) P1
Star Trek – Nemesis (2002) P2
The Quotable Star Trek – Deep Space Nine (2007) P2
The Complete Star Trek - The Next Generation (2011) P2
Star Wars Galaxy (double-sized card with 2 promos) (1993)
Star Wars Galaxy Magazine – Cover Gallery (Issue #1, 1996) C4
Star Wars Galaxy Collector (1998) SW1
Star Wars Galaxy Collector (1998) SW2
Star Wars Galaxy Collector (1998) SW6
Star Wars Galaxy Collector (1998) SW7
Star Wars Galaxy Collector (1999) SW9
Star Wars Chrome Archives P1 (Darth Vader) Star Wars Trilogy Special Edition (widevision) (1997) P3 (3)
Star Wars Trilogy Special Edition (widevision) (1997) P7
Star Wars Episode I (Star Wars Galaxy Collector) (Topps Finest Widevision) #0 ("Strength in Numbers")
Star Wars Episode I (Star Wars Galaxy Collector)
(Topps Finest Widevision) #00 ("All Bow to the Boss")
Star Wars Episode I (Star Wars Galaxy Collector)
(Topps Finest Widevision) #000 (The Battle Droids")
Star Wars Episode I 3D widevision (2000) P1
Star Wars Episode II – Attack of the Clones widevision P1
Superman Holo series (1996)
Super Stars Mu;sicards #26 (Paula Abdul)
Supreme (Rob Liefeld) #5
The Three Stooges (1997)
The Tick (1997)
Titan AE (2000) P2
Traks (1994) #15 (1909 Stoddard-Dayton) (2)
TV's Coolest Classics – Volume I (1998) P3 (2)
Twilight Zone Premier Edition (1999) P1
The Complete Twilight Zone (2009) P1
Twister (movie) (1996)
Universal Monsters of the Silver Screen (1996) #3 of 6
Universal Monsters of the Silver Screen (1996) #6 of 6 (3)
Vette Set #77
WWF Smackdown (1999) P3 (Mankind)
WCW Embossed (1999) P1 (Buff Bagwell)
WCW/NWO (1998) P4 (Diamond Dallas Page)
Wacky Packages (Topps 2004) #2 of 3
Wacky Packages Old School (2009) Non-Sport Update promo
Warriors of Virtues (Target 1996) CHI
Wild Wild West – The Movie (1997)
Wild West – the Art of Mort Kunstler (1996) P2
Xena - Warrior Princess (1998) P1 (Xena)
Xena - Warrior Princess Season Two (P2 (Xena)
Xena - Warrior Princess Seasons 4 & 5 P4 (Xena)
Xena – Beauty & Brawn (2002) P2 (Gabrielle)
X-Files phone card (1997)
X-Files (CCG)
X-Files – Fight the Future (movie) (1998) P1 (2)
X-Files – seasons 4 & 5 (2001) P2
X-Files – season 8 XFB-2
X-Men Oasis (Hildebrandt) (1997) (3)
X-Men movie (2000) X4 of 4
Zorro (movie) (1998) P1
Zorro (movie) (1998) P2
davescardsinla.angelfire.com/nonsport_trading_site.html
SPORT CARD TRADING SITE HOMEPAGE
SPORT CARD WANTLISTS
SPORT CARDS FOR TRADE
Non-sport cards for trade