DAVESCARDS SPORT CARD TRADING SITE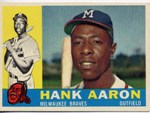 Still the Home Run King
Welcome to my sport card trading site. A little about me: I grew up in Kenosha, Wisconsin and was a big Milwaukee Braves and Green Bay Packers fan. I moved to California in the mid-70's. I'm now a Dodgers and Lakers fan, but I'll always be a Packers fan, as well as a University of Wisconsin Badgers fan (my alma mater). I collected baseball cards as a kid in the 1950's. I had a nice collection of early to mid-50's Topps and Bowman cards. A fond memory was getting an Easter basket full of 1955 Bowman packs. Alas, the story ends as so many like it with my mother throwing out all my cards when I went away to college. Fast forward to 1989 when I took up collecting again. .
I'm mostly interested in finishing some 50's baseball sets, along with some modern sets. I also collect a few vintage basketball and football sets. I'm currently a member of Vintage Card Traders, Trading Bases and Dugout Traders. As far as cards to trade, I have some vintage cards and a whole lot of modern era stuff 1986-2017), including many inserts.
In addition to individual cards to trade, I have complete and partial sets, unopened boxes, and some professionally graded cards. I also have some new, unused collecting supplies: 100 and 200-count plastic storage boxes, toploaders, and 3-ring binders. Although I put prices on some of this stuff, it's all available for trade.
I have a large collection of non-sport cards that I am in the process of liquidating. I'm looking to finish a few non-sport sets, but the majority of what I have is available for trade or sale.
Please send your want lists and trade proposals to: DWBCA@aol.com.
I may periodically have auctions on Ebay. Please check my listings under "davescards". I am a "Top-Rated Seller".
WANTLISTS
CARDS FOR TRADE
NON-SPORT CARD SITE